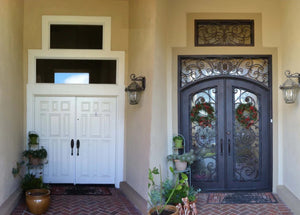 We take our front doors for granted most of the time but imagine what life would be like without them. We'd feel vulnerable and insecure and probably have very little privacy. The front door is one of the most important features of a building in terms of security but it is intrinsic to its aesthetic appeal. You can have beautiful brickwork, or luxurious landscaping but a shabby and underwhelming front door will totally let any bold architectural scheme down. It's the first impression people get of your home when they come to visit. So while it's a portal designed for...
---

THE OPPORTUNITY TO BE UNIQUE You can simply have the design you love in more products so they match each other. You'll have a design matching your vision, drawn in scale precisely fitting the measurements required, before the project will be submitted to manufacturing.  For more info please contact us: info@valeanto.com  
---
WE CAN HELP YOU BUILD YOUR NEW IRON STAIRCASE, BALCONY RAILINGS CUSTOMISED PER YOUR PREFERENCES. AS IT CAN BE SEEN IN THE EXAMPLES BELLOW , THE QUALITY AND LOOK IMPROVEMENT IS INCOMPARABLE.